The best choke for dove hunting is improved cylinder or modified choke for a wide range of shots and increased pellet density. Dove hunting requires a specific choke tube that delivers an adequate pattern for fast-moving targets, and improved cylinder and modified choke can provide that versatility.
Dove hunting is a tradition that dates back to several centuries, and it is still a popular pastime for hunters. However, hunting doves is not an easy task, and hunters require the right equipment to get the job done. One critical factor for successful dove hunting is selecting the best choke for your shotgun.
The choke determines the spread of the pellets as they exit the barrel and are crucial to the pattern density. Selecting the appropriate choke for dove hunting is essential to achieve success, and improved cylinder or modified choke is often the popular choice. In this guide, we will explore the features and advantages of these two chokes for dove hunting.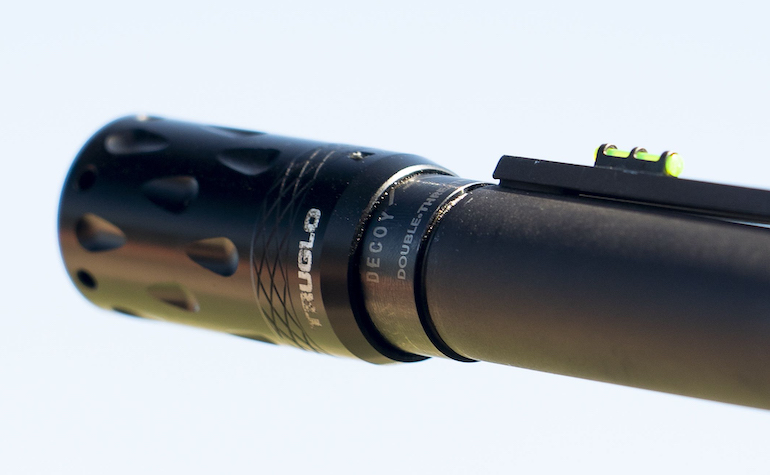 Credit: www.gameandfishmag.com
Understanding Chokes For Dove Hunting
Dove hunting is a popular and thrilling pastime for many hunters, but it requires skill, patience, and the right equipment. One of the most significant factors in determining a hunter's success is their selection of chokes. A choke is a constriction at the end of a shotgun barrel that regulates the spread of shot.
There are several types of chokes, each with varying degrees of constriction, that offer different shot spread patterns and affect shooting distance. Understanding chokes for dove hunting is essential for hunters to know which one to use.
Explanation Of The Different Choke Types
There are four primary types of chokes that hunters can choose from, depending on their preference and the type of hunting they plan to do.
Cylinder choke: This choke has no constriction and allows for a broad shot spread pattern. This choke is ideal for close-range shooting and hunting smaller game like quail or rabbits.
Improved cylinder choke: This choke has a slight constriction and offers a tighter shot spread pattern than a cylinder choke. It's suitable for shooting at intermediate ranges and recommended for shooting doves at ranges up to 25 yards.
Modified choke: This choke has a moderate constriction and provides a tighter shot spread pattern than improved cylinder chokes. It's best suited for longer shots and specifically recommended for hunting doves at ranges of 25 to 35 yards, giving the best balance in terms of the shot spread pattern and range.
Full choke: This choke has the most constriction and provides the tightest shot spread pattern of all the chokes. It's suitable for long-range shooting and works well for hunting doves at ranges of 35 yards or more.
How Each Type Impacts Shot Spread Pattern
The constriction of a choke determines a shotgun's shot spread pattern. As mentioned before, the cylinder choke has no constriction, and the shots exit the barrel with the least restriction. This leads to a more extensive shot spread pattern, and it's perfect for shooting at close range.
Meanwhile, a full choke, with the most constriction, has the tightest shot spread pattern that maintains the shot concentration at longer ranges, also known as a tight pattern.
Overview Of How Different Choke Types Affect Shooting Distance
Different choke types have varying effects on shooting distance that hunters should consider before selecting the right choke for their hunting trip. Shorter distances require chokes with less constriction, while longer distances require chokes with greater constriction. Additionally, the type of game being hunted determines the choke to be used.
The cylinder choke is perfect for closer ranges (within 20 yards), while the improved cylinder choke has a range of up to 25 yards for hunting doves. Modified choke can shoot doves up to 30 yards efficiently. Hunters typically use full chokes for longer shooting ranges of up to 40 yards, but it's better used as a general-purpose choke.
Understanding the basics of choke types is essential for dove hunters. By selecting the right choke, hunters can improve their accuracy and increase their chances of a successful hunting trip. Remember to choose the choke that suits the range of the hunting area and the size of game being hunted.
Practice shooting with different chokes to determine which one works best for you, since preferences and shooting style can always come into play.
Choosing The Right Choke For Dove Hunting
Dove hunting can be an exhilarating activity, but selecting the right choke can be the difference between a successful hunt and going home empty-handed. Here are some factors to consider when choosing the best choke for dove hunting.
Explanation Of Factors To Consider When Choosing A Choke
Distance: The first thing to consider is the distance at which you plan to hunt. Chokes are designed to control the spread of shot, and the distance you plan to shoot will determine the tightness or looseness of your choke.
Hunting location: Depending on the hunting location and terrain, a choke that is too tight or too loose can negatively impact your hunting success. For tight locations, a tighter choke can help you aim better; for open terrains, a looser choke can provide better coverage.
Shotgun: The type of shotgun you're using also plays a crucial role in determining the appropriate choke. A shotgun's gauge and barrel length will affect how a choke performs.
Ammunition: Lastly, choosing the best choke will require you to understand the ammunition you're using. Shot sizes will differ, and the choke you use will impact how the shot patterns disperse.
Best Choke For Different Hunting Situations
Improved cylinder (ic) and modified (mod): If you're hunting in an open area, an ic or mod choke is ideal. These chokes can cover more ground and offer a wider shot pattern.
Light modified (lm) and full (f): Lm and f chokes perform best for intermediate distances, making them ideal for hunting in tight locations and wooded areas.
Skeet and cylinder (cyl): For hunters who prefer to hunt at closer distances, skeet and cyl chokes can provide a wider shot pattern and better coverage.
How To Match Your Choke To The Shotgun And Ammunition
Determine the gauge of your shotgun and make sure to choose the appropriate choke for it.
Match the length of your shotgun barrel to the appropriate choke. If your barrel is shorter, you may want to choose a tighter choke.
Choose the correct ammunition size since different chokes have different restrictions which will impact shot patterns.
Take advantage of choke tubes and try different restrictions to determine which one is ideal for your hunting needs.
Finding the best choke for dove hunting requires understanding your hunting location and needs; take into consideration the shotgun and ammunition, and match the choke depending on the distance and terrain. With this enhanced knowledge, your next dove hunting experience is bound to be a successful one.
Top Chokes For Dove Hunting
Detailed Review Of The Best Chokes For Dove Hunting
When it comes to dove hunting, having the right choke can make a significant difference in your game's success rate. There are several factors to keep in mind when choosing a dovetail, such as constriction, material type, and brand reputation.
What Makes Each Choke Stand Out
Carlson's extended super steel shot choke tubes – carlson's extended super steel shot choke tubes stand out due to their outstanding reputation for having tight constriction, producing a dense shot pattern, and made of high-quality steel, making them incredibly durable.
Briley spectrum chokes – briley spectrum chokes stand out due to their versatility. Whether you're shooting at close range or long-range, these chokes allow you to make your shots accurately and efficiently. Additionally, these chokes are durable, easy to clean, and maintain their accuracy over time.
Trulock precision hunter choke tubes – trulock stands out with their precision hunter choke tubes as they are made from high-quality stainless steel, making them highly durable and resistant to rust and corrosion. They offer an impressive range of constriction options to choose from, ensuring you have the perfect choke for the species you're hunting.
Comparison Of Different Brands And Models
When comparing these three top brands, it's important to consider the pros and cons of each.
Carlson's extended super steel shot choke tubes are excellent for hunters who need tight constriction and dense shot patterns. However, they may not offer the versatility that the briley spectrum chokes do.
Briley spectrum chokes cater to hunters needing a versatile option and are durable enough to withstand frequent use. However, they may not be the best option for those hunting larger species.
Trulock precision choke tubes offer an impressive range of constriction options, ensuring hunters find the perfect choke for the job. However, the brand's reputation may not be as established as carlson's and briley's, making it a lesser-known option in the market.
Overall, each brand and model has its unique benefits, and choosing the right dove hunting choke ultimately depends on your specific hunting needs and preferences.
Tips For Using Chokes Effectively
Overview Of Tips And Techniques For Using Chokes
When it comes to dove hunting, chokes play a critical role in hitting your target successfully.
Opt for the right choke according to the distance and condition of your shooting situation.
Use improved cylinder or modified chokes for a close range, while full choke works best for far distances.
Adjust your choke based on your hunting condition.
Learn to manage your shotgun and using chokes effectively to ensure a precise shot.
Explanation Of How To Adjust Your Choke For Specific Shooting Situations
Adjusting your choke according to specific shooting circumstances requires a bit of knowledge and practice – but it's possible to improve following these techniques.
For closer distances, use improved cylinder chokes, which offer a wide pattern, providing a wider area to aim at.
For longer distances, use full chokes, which provide a more focused pattern that permits better precision.
For mid-range shooting situations, use modified chokes with a tighter pattern spread, which balance the accuracy of the shot.
How To Pattern Your Shotgun To Ensure You Are Using Choke Correctly
Patterning your shotgun is a vital technique to ensure you are using choke correctly and accurately.
Try different loads and shot sizes to test your shotgun pattern, including shotgun shells ranging from 7. 5 to 9 shot sizes.
Choose a target with a pattern board, at least 30-40 yards away, and create a 30-inch circle on it.
Aim and shoot at your target with various chokes to see the pattern. The goal is to find the best choke for your shotgun and ammo combination to achieve the desired pattern spread.
Mastering these techniques can upgrade your dove hunting game – from choosing the right choke for your hunting condition to adjusting it correctly to ensure you are using choke effectively. With practice and patience, you'll develop the insight to manage your shotgun using chokes to hit your target and improve your shooting skills.
Frequently Asked Questions Of Best Choke For Dove Hunting
What Is A Choke For Dove Hunting?
A choke is a narrow tube at the muzzle end of a shotgun used to tighten the shot pattern. For dove hunting, a choke is used to improve accuracy.
What Is The Best Choke For Dove Hunting?
The best choke for dove hunting is improved cylinder (ic) or modified (mod) choke. Ic provides a broader pattern, while mod provides a tighter pattern.
What Makes Ic Or Mod The Best Choke For Dove Hunting?
Ic or mod chokes are preferred for dove hunting because they provide a good balance between pattern spread and density, meaning that shooters can hit doves at longer ranges while still having a good pattern spread at closer ranges.
Can I Use A Full Choke For Dove Hunting?
Full chokes are too tight for dove hunting and may result in missing doves. They are better suited for trap or skeet shooting where the targets are flying in a straight line.
How Does The Ammunition Affect Choke Selection For Dove Hunting?
The size of the shot and velocity will affect the choke selection for dove hunting. For smaller-sized shot, an ic choke will be sufficient, while larger shot sizes may require a tighter modified choke. Make sure to test different chokes with the specific ammunition before the hunting trip.
How Far Can I Shoot With An Ic Or Mod Choke For Dove Hunting?
An ic or mod choke can provide effective shooting up to 30-35 yards, depending on the ammunition and the shooter's skill level. Shooting beyond this range may result in decreased pattern density and missing doves.
Conclusion
After carefully analyzing various choke options, it's safe to say that there is no one-size-fits-all solution for dove hunting. The ideal choke depends on various factors such as shooting distance, skill level, and personal preference. The selection of the best choke mainly relies on a combination of these variables.
Through consistent practice and trial, it's possible to discover the perfect combination of choke and ammunition to enhance your effectiveness and improve your hunting experience. Therefore, it's recommended to experiment and test different choke options until you find the one that works best for you.
Remember, the ultimate goal of dove hunting is to have a memorable experience while maintaining a safe and sustainable environment. Happy hunting!